Our ears are complex and highly sensitive. Exposure to loud sounds can cause hearing damage gradually over time. In fact, if you work or regularly spend time in environments where loud noise is common, you could be losing your hearing without even realising it. And once you lose your hearing, that's it, most noise-related hearing loss is irreversible. Specsavers Hearing Centres provide a range of value-for-money solutions for occasional and regular use, from instant fit devices to custom-made products.
Health & Safety at work: Exposure to noise
EC regulations require employers to provide suitable hearing protection for their employees where noise levels exceed 80 decibels (dBA). Here are some typical decibel (dBA) levels of everyday situations:
normal speech - 60-65 dBA
a busy street - 78-85 dBA
lawn mower - 85 dBA
forklift truck - 90 dBA
hand drill/angle grinder - 98 dBA
music venue/nightclub - 110 dBA
heavy lorry about 7 metres away - 95-100 dBA
chainsaw - 115-120 dBA
Instant fit hearing protection
Advances in technology mean the new generation of instant fit devices are now more effective and comfortable than ever.
Using a newly developed attenuation filter, they effectively cut out unpleasant background noise without blocking out the sounds you want to hear, such as speech and music.
They are available in five new variants designed for use in specific environments and starts at just €20 from Specsavers Hearing Centres:
FlyFit - protect during long flights, and ease pressure on the ear during take-off and landing. €20.
SwimSafe - prevent water entering your ears while allowing you to hear ambient sounds. €20.
PartyPlug - ideal for rock concerts and nightclubs, they block excessive noise while allowing you to hear the music clearly. €20.
SleepSoft - block noise from traffic, noisy neighbours and snoring while allowing you to hear high frequency sounds like alarm clocks, doorbells and babies crying. €20.
WorkSafe - eliminate dangerous noises from DIY equipment while speech, radio and the environment remain clearly audible. €20.
MusicSoft - designed primarily for DJs, musicians, and those exposed to loud music on a regular basis. MusicSafe will attenuate the damaging frequencies without compromising on the quality of the music. €25.
MotoSoft - protect from engine and wind noise damaging your hearing, but allow you to hear and communicate clearly. €28.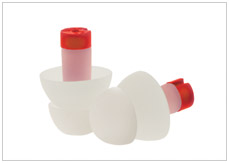 Custom-fit hearing protection
Specsavers custom hearing protection provides an individual fit with guaranteed levels of protection for maximum comfort and performance. Made from anti-microbial silicone, and produced from impressions taken of the user's ears for a perfect fit. They are fitted with specially positioned noise-reducing filters to match the users' particular needs, and come with a 2-year guarantee.
From €170 a pair.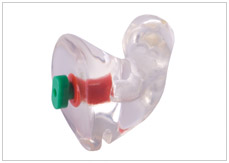 Custom-fit hearing protection for musicians and nightclubs
Musicians' custom-fit earplugs are guaranteed to filter out the damaging frequencies, but preserve the fidelity of the original music with no loss of clarity. They also meet En 352-2:2002 Health and Safety requirements so are ideal for staff working in these environments. Available in a choice of colours.
From €170 a pair.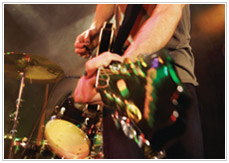 Custom-fit hearing protection for motorcyclists
Tested protection guaranteed against the damaging effects of engine noise and wind shrill while riding a motorbike for prolonged periods or at speed. Designed to fit comfortably within your helmet without restricting your ability to hear and communicate clearly. Available in a choice of colours.
From €170 a pair.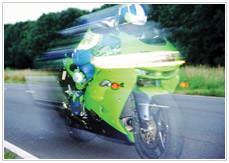 Custom-fit hearing protection for industrial or commercial
CE marked, certified and tested to EN352-2:2002 for employee use in the workplace. Specially positioned filters guarantee full protection from damaging noise levels in a wide range of work environments. They allow you to hear and communicate clearly with colleagues, and are comfortable for wearing over long periods. Anti-microbial silicone reduces the risk of ear infections and cross infections from reusing generic plugs. Metal-detectable versions also available (traceable within food production lines and certain other manufacturing processes). Available in a choice of colours.
From €170 a pair.