New Cellion primax hearing aids -

revolutionary rechargable hearing

Cellion primax hearing aids are a revolution in hearing – they are truly hassle-free and ideal for customers who don't want the fuss of changing batteries.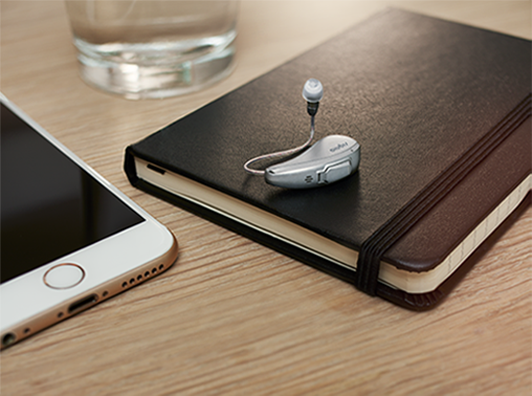 Smart, simple and powerful
They are the world's first hearing aid with lithium-ion inductive charging – with their smart electronics they start charging automatically as soon as they are placed in the charger, and then they turn on automatically when they're taken out again. You just place them in their charger at the end of the day, and they're recharged and ready to go again when you are. You'll enjoy the benefit of all-day hearing and the simplicity of recharging.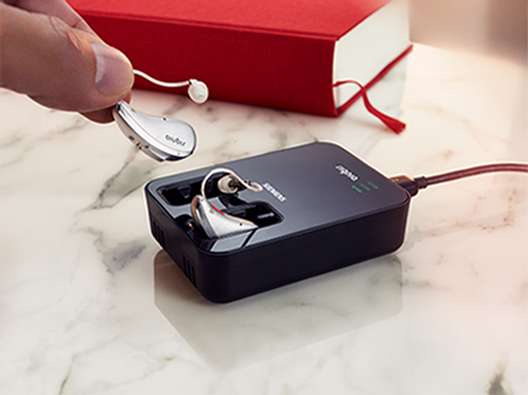 All-day power from the inductive charger
Sleek and elegant but packed with technology, the inductive charger recharges Cellion primax hearing aids. After a full charge, the hearing aids deliver 24 hours of continuous outstanding hearing with unlimited streaming. LED indicators clearly display the status of both hearing aid power cells. During the charging cycle, the charger even dehumidifies Cellion primax for better care and longer service life of the devices.
Cellion primax 5

are £2,595 a pair and

Cellion primax 7

are £2,895 a pair.
Innovative battery-free hearing
Cellion is the first hearing aid in the world to contain a lithium-ion power cell that can be charged contact-free. So you'll never have to worry about changing your batteries again.
The hearing aids are based on the highly acclaimed primax platform, your assurance of quality of hearing and comfort. You can't get more innovative than this.
How to turn on your Cellion hearing aid
Signia Cellion combines high quality with simplicity of use. To turn on your Signia Cellion hearing aid, place the device in your ear. After pressing and holding the push button, the start-up melody is played. Release the button. To turn off, push and hold the push button for several seconds. It's that easy.
How to charge your Cellion hearing aids
With Cellion primax hearing aids, your battery will last up to two days* after a four hour charge and for at least seven hours after just 30 minutes express charging.
Charging couldn't be simpler with our new, contact-free charging dock. You can either connect it directly to the mains supply or, for example, to a USB car adapter or the USB power supply of your smartphone. This is particularly useful when traveling.
*Cellion provides a battery life spanning 24 hours of constant use - at a normal level of use this corresponds to two days with full-time audio streaming.
Remember, our hearing aid prices always include:
Free hearing test

Two digital hearing aids

Free aftercare

90-day satisfaction

Four year guarantee