Once you are wearing your contact lenses, taking them out is straightforward.
Here's a guide showing you how to remove your contact lenses or see our video demonstration below:
Before taking out your contact lenses, check:
Always wash you hand before touching your eyes or contact lenses.
If you use a contact lens case ensure that it is clean and contains fresh solution or saline. Never use tap water.
The simplest method of removal is to pinch the lens gently off the eye:
Place your first finger and thumb on opposing sides of the contact lens and slide it down onto the white of the eye
Pinch the lens gently off the eye, taking care not to squeeze it too hard
If the lens surfaces stick together and it remains firmly folded, place it in the case to rehydrate it for a few minutes before attempting to unfold it. Then follow your recommended cleaning regime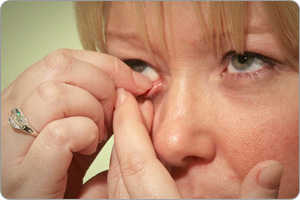 Video demonstration
This video is designed to review the techniques shown to you in store for removing your contact lenses. If after watching the video you require further assistance please contact your store. Our staff will be happy to help.
More video
Click here for a video demonstration on how to put in your contact lenses.